Welcome to the thrilling, sometimes bewildering, world of finance and investing! Before you dive in headfirst, let's take a moment to understand the basics. What is finance? Simply put, it's the management of money. And investing? That's the act of allocating money with the hope of some benefit in the future.
Why is investing crucial? Well, ever dreamt of buying that dream house? Or perhaps, retiring by a serene beach? These dreams need funding, and investing can help multiply your savings to reach those goals faster than simple saving ever could. Besides, with the unpredictable nature of life and inflation always on the rise, having your money grow becomes not just a wish but a necessity.
Basic Terminologies Every Investor Should Know
Before starting, it's essential to speak the language. Here are some terms you'll frequently encounter:
Stocks: Ever wanted a piece of Apple or Google? Stocks represent a share in the ownership of a company and constitute a claim on part of the company's assets and earnings.
Bonds: These are like IOUs. When you buy a bond, you're lending your money either to a corporation or the government. In return, they promise to pay you interest and return your money on a specified date.
Mutual Funds: Imagine a basket. Now, throw in some stocks, bonds, or both. That's a mutual fund – a collection of multiple assets managed professionally.
ETFs (Exchange Traded Funds): They're like mutual funds but can be traded like stocks. So, it's a bit of the best of both worlds.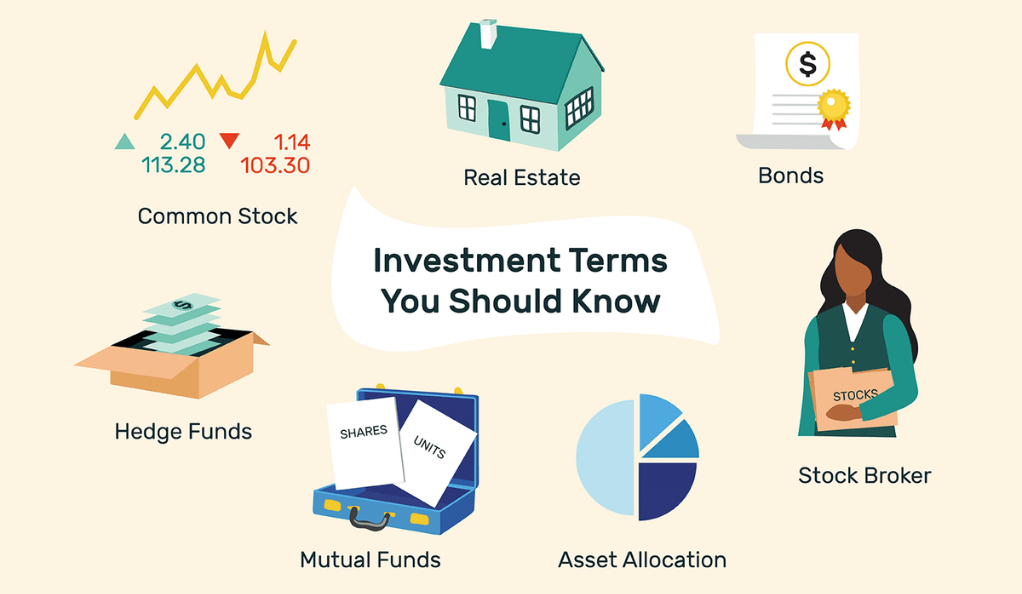 First Steps in Investing
Starting can be the hardest part. But with a bit of guidance, you'll be on your way:
Opening a Brokerage Account: Think of this as your gateway to the stock market. It's where you'll buy or sell your investments.
Setting a Budget: How much can you invest? Determining this helps in avoiding overspending and ensures you have enough for emergencies.
Familiarizing with the Market: Start reading. Books, articles, even finance news. The more you know, the better decisions you'll make.
Tips to Get Started
As you set off on this journey, here are some tips to steer you in the right direction:
The Importance of Diversification: Ever heard the saying, "Don't put all your eggs in one basket"? That's diversification. Spread your investments to reduce risks.
Setting Financial Goals: Are you investing for retirement, a new home, or your child's education? Knowing your destination will help you choose the right path.
Seeking Financial Advice: It's okay to ask for help. Financial advisors can provide guidance tailored to your needs.
Conclusion
Investing can seem daunting initially, but with a bit of knowledge and the right approach, it can be the key to achieving your financial dreams. Remember, the journey of a thousand miles begins with a single step. Are you ready to take yours?
FAQs
What's the best age to start investing?
It's never too early or too late. The earlier you start, the more you benefit from the compound interest.
Can I lose money in investing?
Yes, all investments come with risks. That's why it's crucial to research and diversify.
How much should I invest initially?
There's no set amount. It's more about what you're comfortable with. Some start with just a few dollars!
Is real estate a good investment?
Real estate can be a lucrative investment, but like all investments, it has its risks. Always research before diving in.
Do I need a financial advisor?
Not necessarily. But if you're unsure about your choices, seeking professional advice can be beneficial.